Open Faced Spicy Tuna Sandwich
Want a quick and easy yet nutritious lunch? Topped with wild caught tuna, tobiko roe and sriracha sauce, give this spicy tuna on our ancient grain bread a try!
---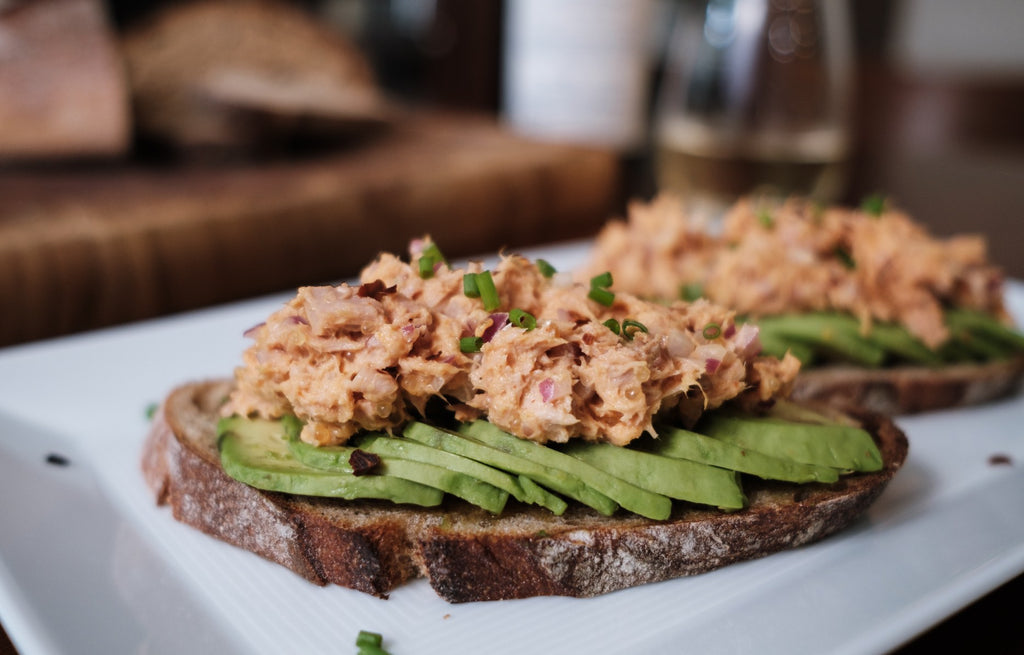 Ingredients
123Dough Bakery sourdough bread, sliced (We recommend American Ancient Grains or Canadian Ancient Grains.)
1 can of wild caught tuna, drained
1 avocado, sliced
1/4 red onion, chopped
4 chives, chopped
1 tablespoon of Tobiko (fish) roe
1 1/2 tablespoons of mayonnaise
1 1/2 teaspoons of sriracha (or to taste)
a pinch of chili flakes (or to taste)
Instructions
First, chop the red onion, soak it in a bowl of cold water, and set aside for 5~10 minutes.
Drain the chopped red onion.
In a small bowl, mix the tuna, Tobiko roe, red onion, mayonnaise, and sriracha.

Slice the avocado and chop the chives.
Toast the bread and drizzle some olive oil on top.

Place the avocado on top of the bread.

Place the spicy tuna on the avocado.
Garnish with the chives and chili flakes.